Follow an educator who relies on AI for effortless classroom management and timesaving tricks
"Even when I was a kid, I wanted the newest, coolest stuff," said Adam Hyman, sitting in his movie-themed basement he converted into a virtual classroom for six months during the height of COVID-19.
Decorated with deep red walls, thick leather couches, old movie posters from community theaters, and complete with a large yellow M&M's candy holder, the media arts technology teacher was able to teach from home without skipping a beat using a Promethean interactive panel.
"A lot of the parents thought I was still in school, which was pretty amazing," he said.
But for most of the last 14 years of his 24-year teaching career, Adam has been walking through the historic, red-bricked building each morning at The School in the Gardens in Forest Hills, New York.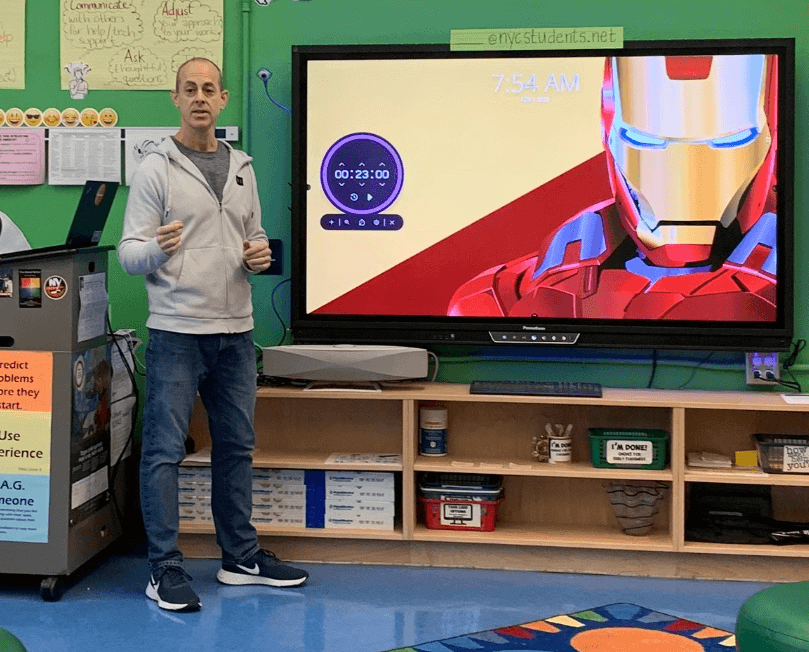 Adam Hyman teaching with Promethean tools.
A background in tech
The elementary school teacher didn't always see himself in a classroom. "If someone told me I was going to be a teacher, I would have said you're out of your mind," he joked.
Although he's currently focused on first through fifth grade, his career began after college in the mail room for a talk show before landing his dream job with the New York Mets. As a scout videographer, he tagged along to the World Series, witnessed clubhouse fun with the players, and went to spring trainings. "It was the coolest adventure I've ever had," he said.
In search of a seasonal supplement, Adam decided to get a substitute teaching job after his mother, a teacher's aid at a school in New York City, suggested he try something new. It turned out—the more he subbed, the more he loved it.
Eventually getting up to a 20-hour workday between the two jobs, the unsustainable schedule finally took a toll after two years of almost 24/7 work. It was a toss-up between two passions—and in the end, he chose teaching.
Putting education technology to work
As a primary proponent of upgrading The School in the Gardens with Promethean's award-winning ActivPanel back in 2019 after years of using projectors and whiteboards, Adam still hasn't stopped innovating with the newest technology available. He now uses AI (artificial intelligence) as an aid to the hands-on learning experience his media and technology classes receive daily.
Merlyn, a digital assistant for teachers, helps educators quickly and naturally control classroom technology and management so they have more time to focus on their students.
Merlyn is just one device in the extensive technology toolbox Adam uses nearly every day for different grade levels, depending on their needs. He speaks commands into the digital remote to pull up background music during activities, demo videos, and quickly browse different websites. Every second counts in the classroom, and the time it takes to complete these tasks manually is enough for distractions to spread.
The outcome of utilizing new technology in the classroom is huge. As a result of the student's hard work and Adam's dedication to teach with technology, Bee TV, the school's daily newscast put on by students with Adam's guidance, was picked up and featured by a local news station.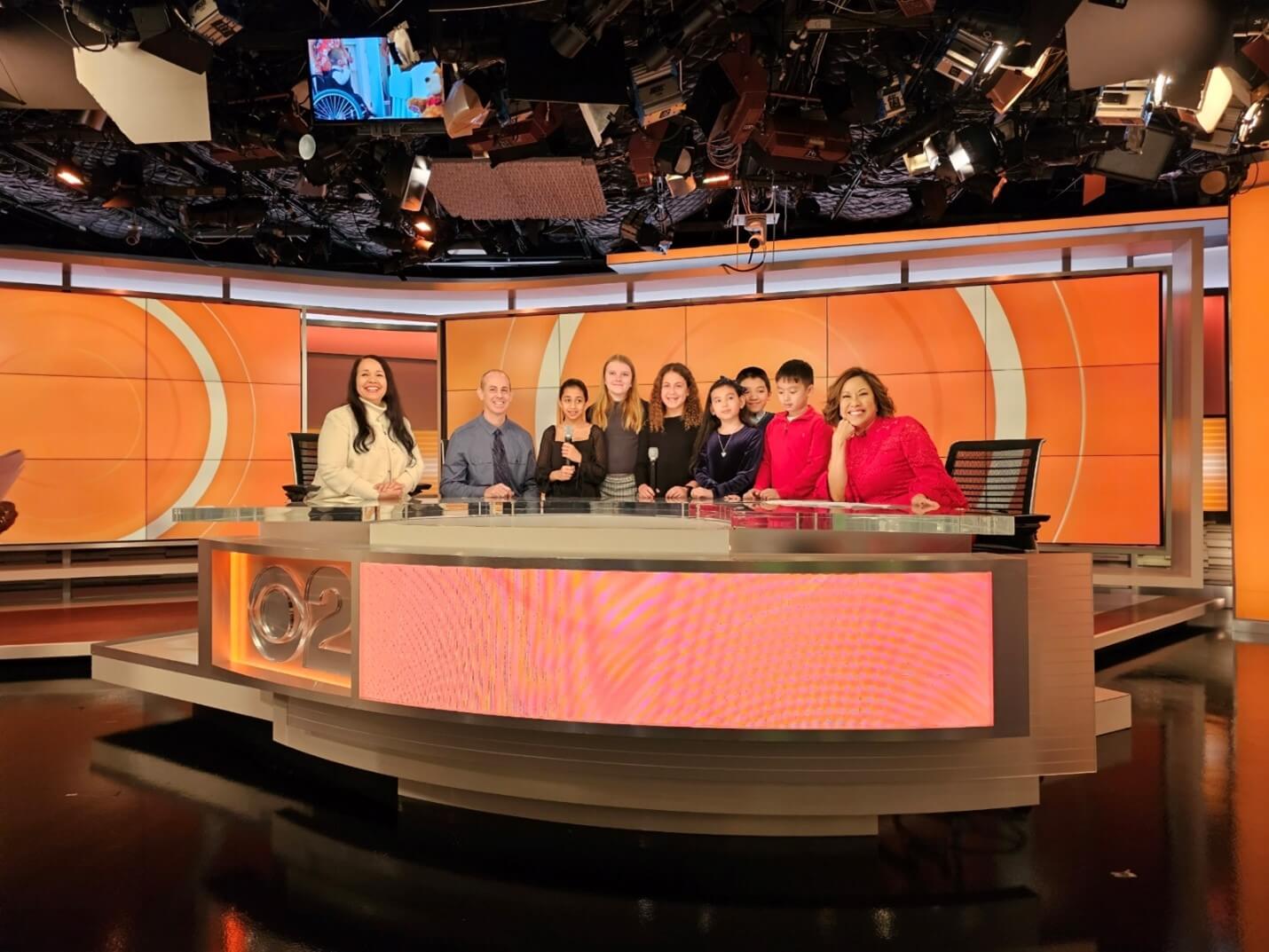 Adam and his class featured on CBS2 New York for Bee TV
AI: The classroom management expert
Surprisingly for Adam, the most helpful element Merlyn adds to his day-to-day routine is classroom management, which he says is half the battle of teaching. "Classroom management is something I never thought I'd be able to use it for," he said. "That tether-free feel is nice."
Adam says his experience with student attention spans has been a challenge, especially recently. Being able to voice commands without disrupting the flow is key. "To have even a 10-second pause—you could lose five kids," he said.
From searching for information about hurricanes on Google and scrolling through pages on the panel from across the room to being able to slyly stand next to a talkative student to get their attention without grabbing anyone else's, AI's benefits in the classroom are seemingly endless.
The future of education technology
Technology is a way of life in Adam's classroom. Always thinking ahead for the future, he believes anything is possible. "In the next five years, I can think of wild and crazy stuff for what can be in a classroom," Adam said. "When you start to integrate Merlyn, you're already starting to embed a future idea."
In a perfect world, if he had his choice on the next upcoming technology, Adam would implement Star-Trek-type 3Dholograms in every classroom for an up close and personal look at lessons. "I think that's not too far away," he exclaimed, offering to be the guinea pig to test future ideas. "Five years, 10 years from now. I think you'll actually start seeing that kind of stuff."
Is an ActivPanel or Merlyn right for your school?
Learn more and request a demo today.