Students at Oreilia Kelley Primary School (OKPS) on the island of Anguilla are excited to talk about school and quick to share their favorite subjects and activities. Math tops the list for Eboni Hodge, a fifth-grade student. "I like how it's challenging, and it makes you think," she said. Fellow fifth-grader, Shermar Brooks, favors social studies, "Because it teaches you more about your history, your island, and where you live." Sixth-grader Joden Henry explained: "When you go up to higher grades, it gets harder," and said her preference is always changing. "Right now, I like literacy, writing, and using my vocabulary."
No matter the subject they prefer most, the students are eager to talk about how much they like the new technology in their classrooms, especially the ActivPanel. While teachers and administrators point to the noticeable impact the panel has made on academic outcomes and attendance, students point to a different benefit—the fun factor.
With the ActivPanel, students can engage in new activities that capture their attention and keep participation high. Games and peer-to-peer challenges where they receive points for speed and accuracy are especially popular. Challenge results are immediately posted on a digital leaderboard, giving students an instant sense of gratification and motivating them to keep trying to improve. "It's fun because our classes are competing to see who's first place, second, or third place," said Henry. "We are currently in second and our class is pushing for first place."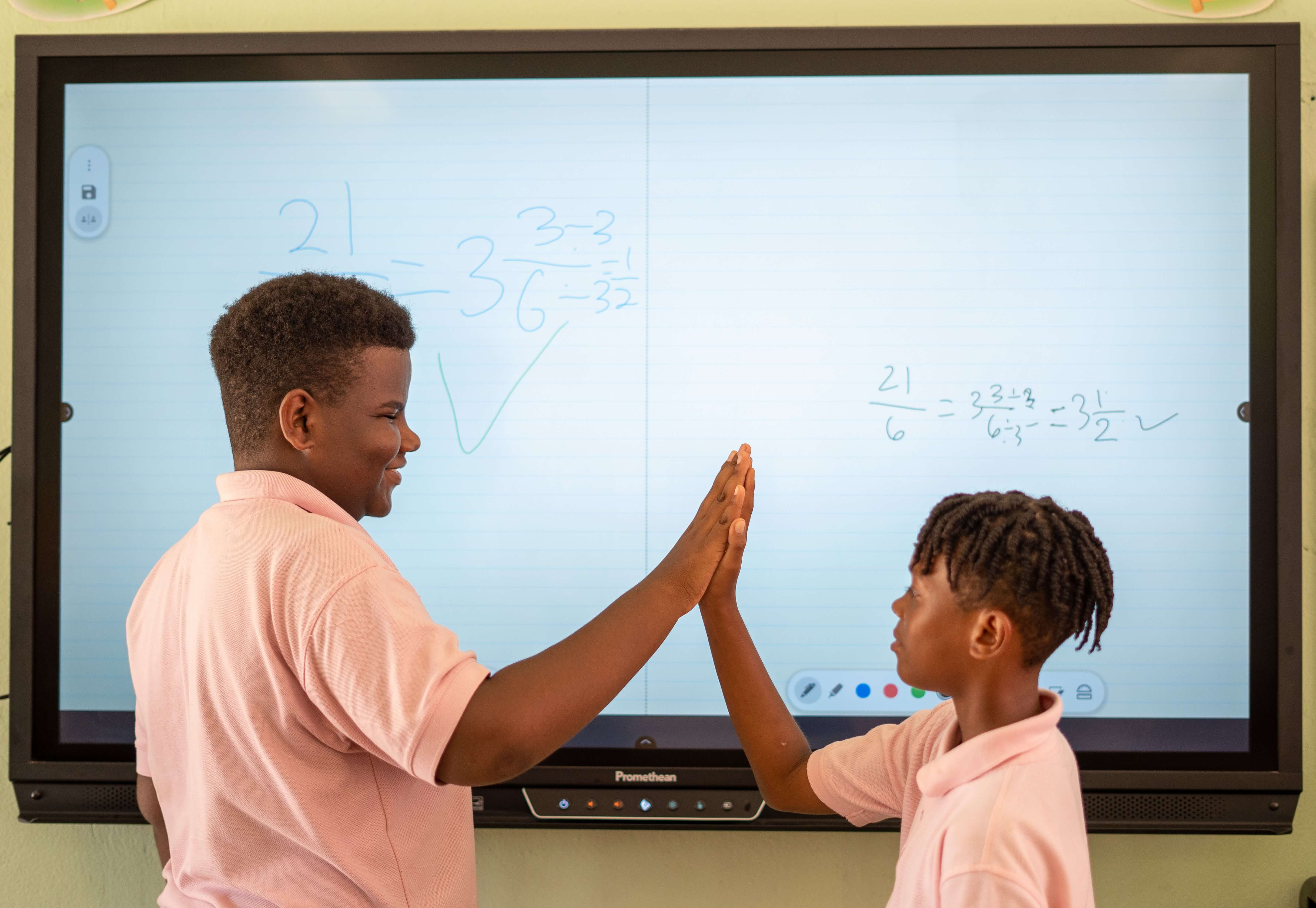 Gamification on the panel is also opening learning opportunities beyond traditional academics for these island-based students. Many games pair children up with other students from their class, school, and even across the region and world. Adjoa Carty, a third-grade student, enthusiastically shared, "One time I played with a boy and girl from England!" Working together cooperatively and in competition is helping students practice and grow interpersonal and teamwork skills.
Additionally, students can show and tell what they've learned on the ActivPanel with their classmates, which boosts their confidence and acts as a motivator for completing their work. "My favorite subject to do on the board is mathematics—like division, fractions, and multiplication," shared Kevin Bryan, a fourth-grade student.
"I used to write on a whiteboard, but it's very easy on the panel and you don't run out of materials."

Mordecai Conner, a third-grader
"If you finish your work before everyone and get all the answers correct, you get to write the answers on the board." Sixth-grade student Jordan Henry chimed in, "I'm fascinated by annotate on the board. It's fun to use, especially with drawing."
The ActivPanel has sparked renewed enthusiasm for school in these students. One of the many positive outcomes of the new edtech was that OKPS came in first in the 2023 Anguilla Spelling Bee competition, and fourth-grader Shae Wills won Best Speller overall. Wills attributed his success in part from having technology to use while preparing: "It's a great idea that you all brought the Promethean boards to our school." The students at OKPS are so excited to learn, and after a full year of using the ActivPanel, it's hard for them to imagine learning without it. "We use it every day," said fourth-grader Kevin Bryan.
Is an ActivPanel right for your school? Learn more and request a demo today.