When outfitting your classroom for the upcoming school year, there are several key decisions to be made. The room's style, furniture arrangement, and the type of video display you'll be using. The solutions you come up with can have a tremendous impact on the rest of your school year.
As for the centerpiece of the classroom, thousands of educators are making the switch from traditional classroom projectors to state-of-the-art interactive display panels. Promethean's ActivPanel LX is a popular choice because of its cost, reliability, and flexibility.
Before we take a look at some of the many features of the ActivPanel LX, we will first review a brief history of schoolroom projectors. We'll also explore how interactive display panels have evolved out of these traditional classroom fixtures.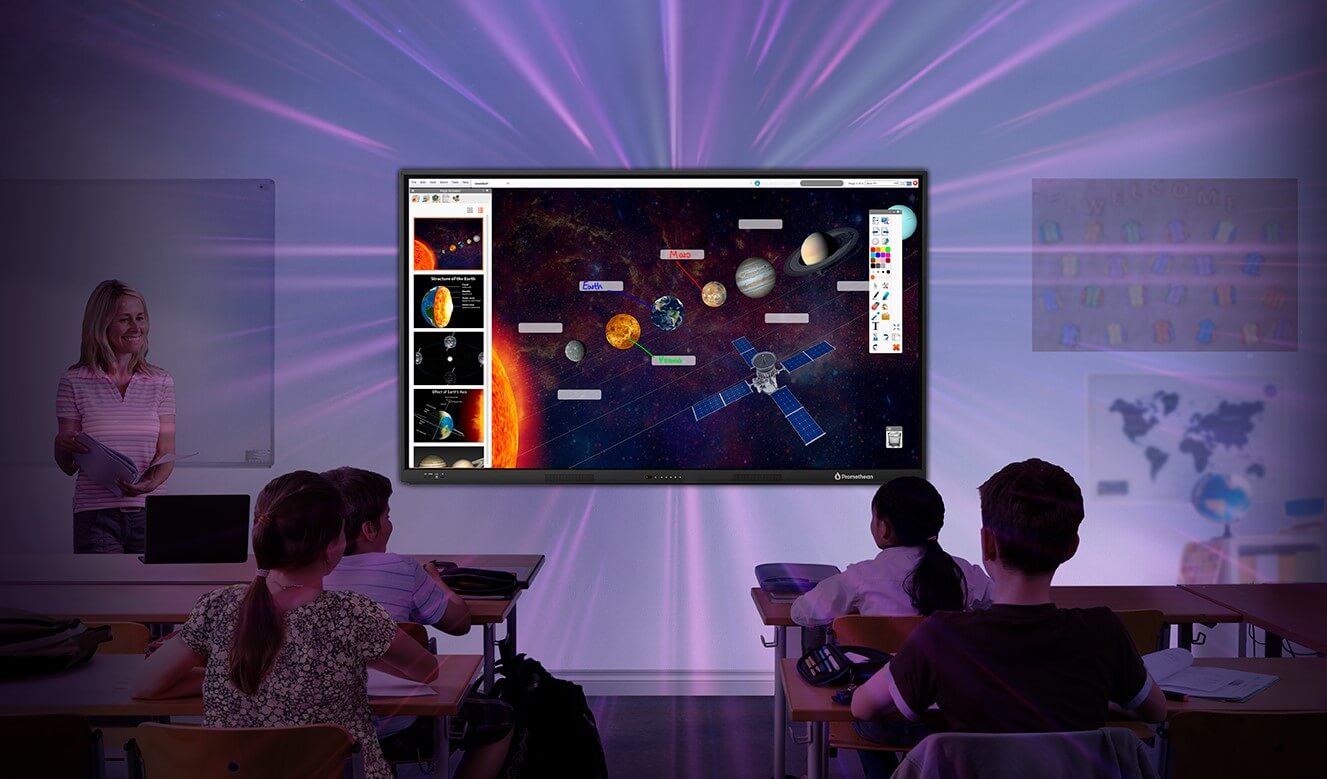 Overview/history of projectors in schools
Much has changed since the first projector appeared in classrooms in the late 1800s. Let's examine how projector technology evolved over time, sowing the seeds for today's innovative education technology. Let's quickly review the four main types of projectors as they appeared in classrooms in the 20th century. Drop a comment if you remember these devices from your own years in school.
Filmstrip projectors (1940s) – The original classroom projector, these devices worked by shining a harsh light over a small strip of film that contained individual images. Teachers were able to pause or rewind presentations with the help of a knob, but otherwise had little control over their material.
Overhead projectors (1960s) – Developed by Roger Appeldorn for 3M, the overhead projector was a classroom staple from the time of its creation into the early 2000s. The same principle behind overhead projectors can be found in their modern counterpart, the document camera.
Data projectors (1980s) – The first data projectors were built with a single cathode ray tube (CRT), weighed over 40 pounds, and could only project an image in monochrome. Since then, newer data projectors with improved visual capabilities have taken over, including those with LCD (liquid crystal display) panels.
3D projectors (2010s) – Shortly after digital light processing (DLP) chips were created, 3D projectors exploded onto the market. With the use of 3D glasses, students can visualize material in a whole new dimension, as the 3D projectors display two images simultaneously on one screen.
Pros, cons, and limitations of projectors
While projectors are still found in many classroom settings, the cost/benefit analysis for their use has shifted over recent years. Advances in educational technology – along with dramatic reductions in the cost of newer display panels – have led many teachers to reconsider their stance on projectors.
Pros
Inexpensive solution to reproduce images/ video
Can present information to a large audience
Cons
Users can't interact with the screen
Can be affected by ambient lighting
Set up can be complicated and require trial and error
Projectors can often require regular maintenance
Replacement bulbs need to be purchased for optimal functioning
Limitations
Less inviting/ opportunity for student engagement
Less group collaboration for students
Fewer built-in ports
The latest solution to projectors – interactive displays
An interactive display is an innovative, convenient solution to the projectors of yesteryear. First introduced over a decade ago, these devices have seen widespread adoption in classrooms across the country.
ActivPanel LX
The ActivPanel LX is a reliable edtech solution for the modern educator. Designed with ease of use in mind, the display panel can be integrated into existing classrooms without a learning curve.
Functionality
Promethean's ActivPanel LX sacrifices neither function nor form, aiming to be the most versatile and user-friendly display panel on the market. From teachers and IT professionals to administrators and the students themselves, these devices provide an immediate return on investment for anyone looking to level up their classroom experience.
The ActivPanel LX connects to your device with a single USB-C cable, letting educators turn their computers or laptops into large-format interactive displays with touch, video, and audio all handled with a single cable.
And if you're looking for an all-in-one solution when paired with an optional Promethean computing module, these panels can be integrated into your existing computing ecosystem – whether it be Google, Windows, or Android.
No fuss, no mess – just plug in your panel and get started!
Benefits
For educators in need of an easy-to-use, affordable front-of-classroom display, the ActivPanel LX delivers. Here are just a few of the features that make the ActivPanel LX stand out from the crowd.
Flexibility
Seamlessly integrate with existing classroom hardware
Only the computing component needs to be updated when the time comes
Can be used with existing teacher content
Available in 65", 75", and 86" (all 4k)
Simplicity
Easy installation and setup for IT admins. No additional devices requiring security measures
Minimal training requirements for teachers, as they'll be working with the content and in the environment they're familiar with
Value
Ways to use the ActivPanel LX in your classroom
Promethean has been partnering with educators for years, developing solutions that make life easier inside and outside the classroom. That's why we've worked to create a flexible device that works seamlessly with existing classroom applications.
Google Classroom
Google Classroom has become an essential component of many curricula in recent years. Naturally, the ActivPanel LX is designed to support Classroom and its many features.
Users can create interactive lesson plans, conduct remote lab experiments, and connect remote users with in-person activities. Plus, it can all be done with minimal training thanks to ActivPanel LX's easy-to-use interface.
Microsoft Teams
Microsoft Teams can be an extremely useful tool for managing groups, meeting spaces, and calendars. Used in conjunction with a Promethean ActivPanel LX, educators can provide at-a-glance information about daily activities, homework, or more detailed instruction.
Users can pull up and edit dates and calendar invites on the fly, making it a breeze to organize groups and connect with peers. Paired with an interactive display panel, users can call and interact with remote users for real-time collaboration in a hybrid classroom setting.
Simplicity. Flexibility. Value. That's what makes an ActivPanel LX.
As new educational technology continues to take shape, the classroom follows along. Don't be left behind – bring your classroom into the 21st century with an interactive display panel.
For a limited time – Get the amazing ActivPanel LX at a super low price. special fall prices.
When it comes to cutting-edge professional development for teachers, few do it better than Promethean. Find out why teachers across the country are choosing us for ongoing, inspiring professional development.
Request a demo today to see the Promethean ActivPanel LX in action.