Plus: How to prevent summer learning loss
As students go on summer break, they're leaving behind not only their classroom but much of their academic capability as well. "Summer learning loss" (SLL) refers to the phenomenon of lower test scores and academic function many students experience following summer vacation.
To mitigate the effects of summer learning loss, we first take a look at quantifying the impact summer break has on a student's academic ability.
From there, we will outline the many learning tools and activities available to students looking to focus on personal growth and putting their best foot forward in the upcoming school year.
How much learning is lost over the summer?
SLL's existence is still up for debate in some circles. However, researchers have suggested for decades that students lose 17-34% of their learning gains post-summer when compared to their pre-summer averages.
Not every student experiences significant summer learning loss, but those that do are more likely to also experience SLL in subsequent summers.
According to a study conducted by the National Center for Education Statistics (NCES), the degrading effect of SLL appears to be the strongest after the summer immediately following a student's kindergarten and first-grade years. Math and reading are the subjects most susceptible to the effects of summer learning loss.
The importance of these early developmental periods cannot be overstated. That's why educational researchers work to create activities and resources aimed at reducing the loss of key educational development.
Summer learning activities by grade level
One of the most effective ways to mitigate summer learning loss is by keeping students stimulated over the break. Games, activities, and projects can provide supplemental support to their education by keeping their brains active and engaged.

Promethean makes lessons more interesting during the school year thanks to features like the Resource Packs, available now with ActivInspire. Here are a few fun ways to keep the wheels turning so students' brains stay active over summer break.
Summer learning activities for elementary students
Getting young children excited to learn over their summer break is not the easiest task. Luckily, there are many resources available online to parents and teachers looking for a way to keep children engaged and learning.
Summer Brain Games
Summer Brain Games is a free online activity library run by the Museum of Science + Industry in Chicago. Students of all ages can access a variety of unique and engaging games, covering subjects that range from space science and exploration to earth science and engineering.
Some activities can be done virtually, while many others walk children through building and tinkering in the physical world. Activities like City Circuit walk children through the steps to build their very first powered circuit – while teaching them about electricity and conduction.
Other challenges like Cup Stacking help children build hand-eye coordination while walking them through the steps of the scientific method.
Summer Brain Games can be accessed through any browser or internet-capable device.
PBS KIDS apps
The PBS KIDS series of apps include several helpful resources for families looking to invest in their child's education over the summer. From games to storybooks, these PBS-affiliated apps aim to educate as well as entertain, bringing families together as they complete these exciting learning exercises.

In Molly of Denali, young adventurers can flex their reading muscles by using books, recipes, and maps to navigate and explore. For a more sandbox-like approach to learning, choose the Play and Learn Science app. It lets children play around with basic weather and physics simulations, so they can explore natural phenomena organically.
Outdoor scavenger hunt
A classic staple of any memorable summer break, scavenger hunts provide children with prime learning opportunities. Not only are young students already drawn to the excitement and mystery, but the activities encourage them to use their reasoning and critical thinking skills.

If searching for and finding things isn't a student's preferred way to play, asking them to create their own scavenger hunt for a friend or parent can be an effective alternative.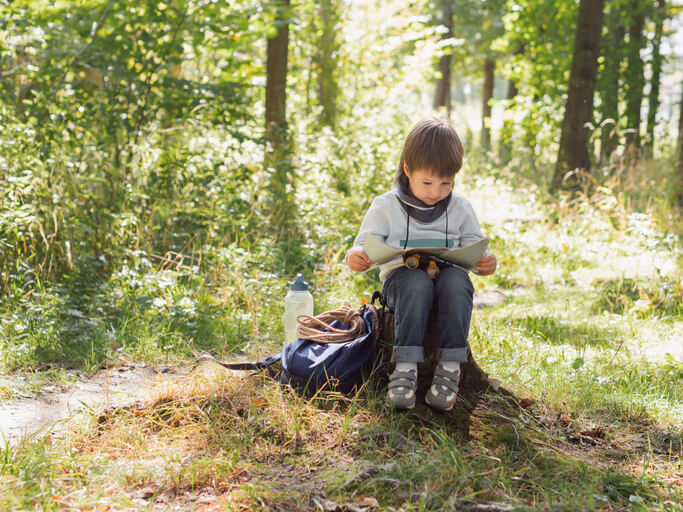 Art contests with neighborhood friends
For a less cerebral activity, an art competition can be a great way to engage with young minds.
Gathering up students into small groups (friends, neighbors, siblings, etc.), children can paint and play in a setting that is both collaborative and competitive.
Add in an extra challenge by limiting the students to one particular medium (chalk, crayon, etc.) or by giving them a task ("draw me the best elephant").
Summer learning activities for middle school students
Still, middle schoolers can be extra protective of their free time during summer vacation. These summer activities will keep your students invested in their education over the break without making them feel like they're doing any learning at all.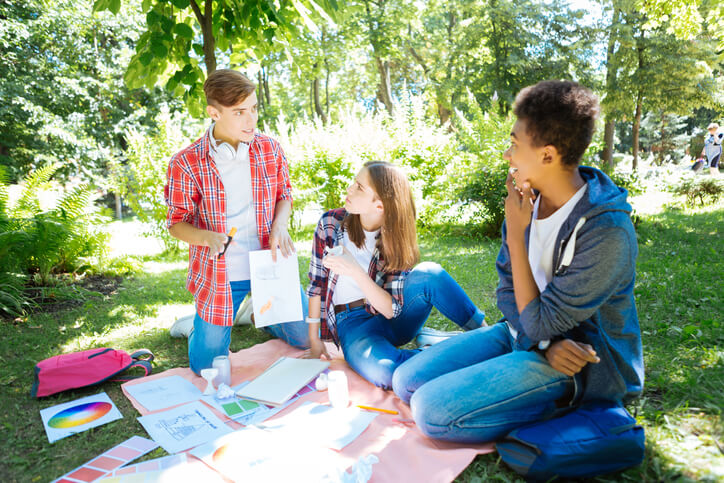 Geocaching ("treasure hunting")
A more mature version of a scavenger hunt, geocaching tasks students with reading maps, GPS coordinates, and following directions.
With the help of an adult, students can download geocache maps from all across the country – allowing them to play explorer as they set up and plan their very own adventures.
Plan a dream vacation
Children love to exercise their imagination. Ask your student what they would do if they had a $5,000 budget to plan a vacation anywhere in the world. From there, help them plan and map out the trip.

This activity can be taken even further by prompting the student to develop an itinerary, create a budget, or even plan supplemental activities (such as purchasing flights).
Warm weather inventions
Warm summer weather brings a host of unique warm-weather challenges. From mosquitoes and blistering sun to melting dairy treats, there are many "summer problems" that have yet to be solved.
Encourage brainstorming, challenging your student to pick a problem that they care about and using that to motivate them to develop a solution.
Once they have an idea of what they want to do, have them give you a list of materials they would need to build their invention. They should also have a written plan or a presentation for how they expect the invention will work.
Don't forget about physical education!
Get your students active and moving. It not only helps them expend their boundless energy but keeps their bodies healthy and their minds active.
Go to the park
A public park provides ample learning opportunities for young minds. To add an extra element of learning into the mix, challenge your student to bring measuring tools such as a ruler or tape measure to the park.
Have them measure various things they find and have them compare their findings. Alternatively, have them collect leaves and rocks they find interesting. You can use these for an impromptu lesson on geology and earth sciences.
Join Promethean in a summer of learning
Promethean lets educators and families empower their students with technology-assisted solutions.
ActivInspire provides a wide variety of differentiated learning materials that better suit students' needs.
Promethean invests in education. Find out why thousands of teachers across the country are switching to interactive smart displays and online learning software.
Request a demo today to see the Promethean ActivPanel in action.