Teaching at its best is a seamless process. A kind of mind-meld takes place between the teachers and the students. When things are working, everyone is in the moment. The thrill of learning becomes palpable.
Of course, in practice things are rarely so easy. The best lesson plan in the world can't account for every curveball a kid can throw. And that's not to mention all the distractions that are baked into the modern teaching process—the red tape and technical troubleshooting that so often define K-12 education in 2023.
At Promethean, we believe that "teaching at its best" should be accessible on a daily basis—and that AI can make that a reality. Merlyn Mind's Symphony Classroom solution features Merlyn, an AI-powered digital voice assistant designed to facilitate that flow state—to let teachers actually teach without getting dragged down by repetitive tasks. In a sense, it's the first real attempt to answer the question: how can AI transform the classroom?
Not long ago, we decided to put our answer to the test. Over fifty teachers in North Carolina's Caldwell County Schools were given Symphony Classroom devices and asked to speak openly and honestly about how using Merlyn affected the classroom experience. Their answers suggest that—with AI enhancing the process—the future of teaching looks extremely bright.
"It is definitely the wave of the future"
For decades, Caldwell County was defined by furniture manufacturing—its old nickname was "the Furniture Capital of the South." That all changed in the '90s, when thousands of jobs began to be shipped overseas. In recent years, though, Caldwell has experienced an exciting resurgence, with major tech and pharmaceutical companies opening for business in the area. And right now, Caldwell's administrators are trying to bring that same spirit of innovation to the classroom.
"Caldwell County is really trying to help our teachers become more digitally literate," said Dr. Kim Case, Coordinator of Innovative Education. They want to help them "bring digital tools into the schools."
Of course, digital tools alone are nothing new—over the last twenty years teachers have added more and more of them to their daily arsenal, to the point that, in 2023, a teacher may use upwards of twenty apps in a given school day. Increasingly, the problem is managing all of those apps. Keeping lessons on-point and fluid can be an almost impossible task when you're forced to continually turn away from students to open this or that app, pull up this or that video, find and click through this or that slide.
And that is where AI is poised to make the biggest difference.
"Hey Merlyn—pull up Rhythm Asteroid"
Meet Dwight McGlynn, a music teacher at Baton Elementary in Caldwell County. Every day, he imparts the joy of music to classrooms filled with 5-to-10 year olds plucking pianos and plinking xylophones. When it goes well—when the energy is just right, and the students are engaged and on-task—little else is more rewarding. Unfortunately, too often, the technological tools he was using to facilitate the learning experience were interrupting his lessons and scattering classroom attention.
Merlyn changed all that. "Merlyn allows me to navigate the room while keeping the lesson going," McGlynn says. "I don't have to keep going back to my computer. It allows me to maneuver freely, and I find that really helps with classroom management. It keeps up the pace, keeps things moving, and really helps mitigate behaviors that come from sitting around."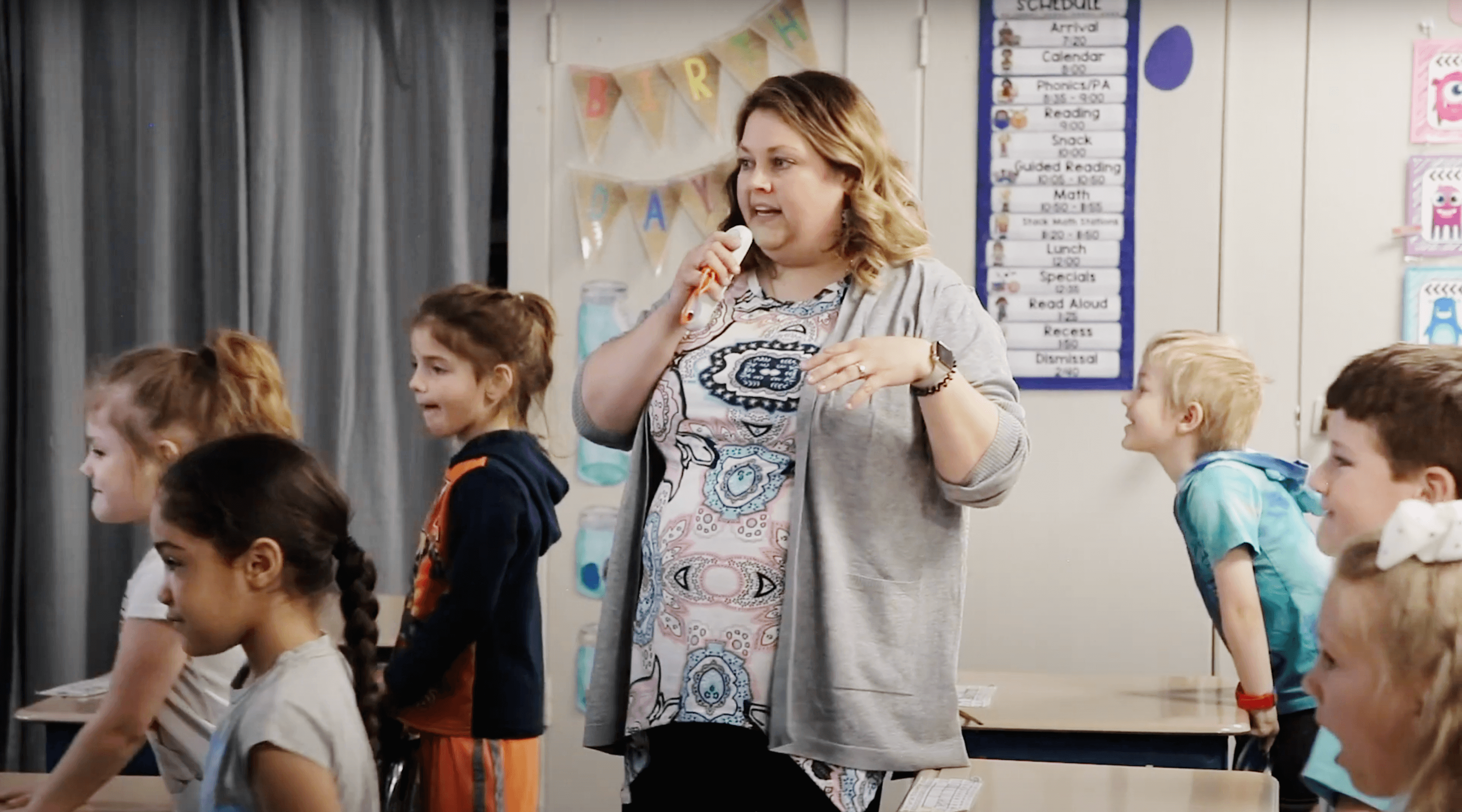 The result is a vision of what teaching can be in the AI era. On the one hand, you have all the pleasures that have accompanied the teaching process from time immemorial—the simple joy of helping a child start to slowly understand the world. On the other hand, you have all the benefits of the modern, technologically-equipped classroom—but without all the glitches, hiccups and distractions that have prevented education technology from reaching its full potential.
One of the biggest focuses I have as a principal is, what can I do to serve my faculty, to make their jobs easier, to make [the learning process] seamless?

Chris Ackerman, principal of Granite Falls middle school
In Merlyn, Ackerman and his colleagues have found what they were looking for. Teaching will never be easy, but it can certainly be made easier—and AI can help.