Learning has evolved rapidly over just the last five years. Disruptive technologies, a global pandemic, and a growing desire among students to find and explore new learning styles have culminated in drastic changes to the educational landscape.
In 2022, over one-fifth of students reported they would prefer to take their education completely online. Higher numbers still prefer a mixture of in-person and online instruction.
With a changing scholastic environment comes bespoke technologies, as well as new challenges to overcome. One of the major shifts in the new emerging educational framework is the shift toward asynchronous learning.
Instead of relying on traditional classroom teaching styles – which prioritize goals like assignment completion and attendance – institutions are taking a more progressive approach. An approach that prioritizes attentiveness, learning at one's own pace, and building competency in their respective subjects.
Keep reading to learn about asynchronous learning and how Promethean smart panels can get the job done.
Synchronous vs. asynchronous learning
The many forms of online learning can be placed into two broad categories: synchronous online lessons and asynchronous online lessons.
Synchronous learning involves teaching at the same time students are learning. Using online video conferencing tools such as Zoom, Skype, or Google Jamboard, educators can live stream their lessons to any number of students.
Synchronous learning gives students who have difficulty attending school in person the chance to receive the same quality of instruction as on-campus students.
This is a boon to those who might have chronic illnesses or transportation issues that would otherwise preclude them from being in class. It also gives students who may be out sick an opportunity to keep from falling behind.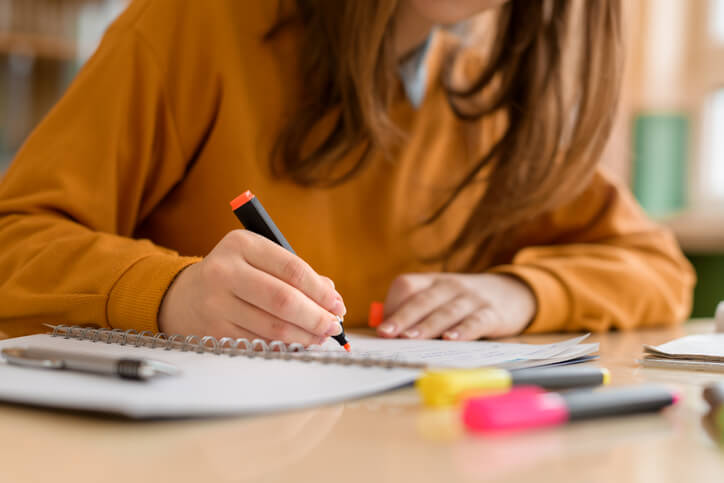 Asynchronous learning occurs when teaching and learning are no longer happening at the same time. Online video tutorials, forums, or virtual laboratories are all common settings for asynchronous learning. This style of teaching offers students more flexibility in how they manage their time and their effort.
Students are also given more time to work through any given project as they are not confined by the restrictions of a classroom period or an instructor's time constraints. Digital assistants can even provide students with additional one-on-one aid and instruction, freeing up educators to spend their time more efficiently.
Asynchronous learning allows even more flexibility in how students manage their time and effort, but a certain level of self-discipline is required.
While both forms of online learning have seen a dramatic increase in their popularity and usage over the last several years, it is asynchronous teaching that educational experts believe offers the most potential for improving learning outcomes.
Asynchronous learning is all about choice
Asynchronous learning seeks to measure student success on the merits of understanding and engagement. Traditional forms of education rely on harsh, one-size-fits-all grading schemes. Asynchronous learning models empower students on an individual basis. They have more tools and freedom to tailor their educational experience.
Set the pace
One of the key benefits of an asynchronous learning model is that it empowers students to better navigate their learning experience. Engagement is one of the core tenets of learning, and if learning is happening too fast or too slow, the educator risks losing their attention and focus.

With asynchronous learning, students can set their own pace, working through assignments and activities at a speed suited to their current abilities. This allows advanced students to tackle subjects that excite and challenge them. Meanwhile, struggling students can take the time they need to fully absorb a lesson.
Products like ClassFlow empower remote learners with polls, activities, and assessments to work through at their leisure. Plus, on a project's been turned in, it gives teachers instant access to their student's results. These personalized changes help build healthier study habits and improve learning outcomes while reducing the strain put on teachers by synchronous learning techniques.
Personalized educational experiences
Traditional, undifferentiated models of teaching are fraught with issues. Most often, a "one-size-fits-all" approach to the classroom results in a framework that is more accurately described as "one-size-fits-none" – leaving students feeling alienated and disinterested.
With asynchronous learning tools like Promethean's ActivInspire, students can engage with lessons that are tailored to their unique learning style. Lessons derived from a combination of different sources and activities such as video, games, and recorded lectures provide students with ample choice for how they prefer to engage and learn.
Enhanced collaborative opportunities
Online learning platforms give students many ways to connect and collaborate with their peers – both inside and outside of the classroom.
Digital collaboration tools like Google Drive enable students to work with one another both synchronously and asynchronously, so they can access coursework material from wherever they have the internet and a device. These platforms offer many unique ways for students to tackle classwork, from collaborating on a shared study guide to building out a presentation bit by bit.
Real students. Real products. Real learning.
In the last decade, we have seen the use of asynchronous learning technologies in the classroom expand exponentially – and with promising results.
As K-12 classrooms and universities alike adopt more asynchronous learning methodologies in their classrooms, the benefits of these technologies continue to grow and bear fruit. The merits of theoretical classroom changes can be debated, but the real-world results cannot.
No replacement for face-to-face teaching
In 2021, researchers at Northern Illinois University integrated Promethean's ActivPanel interactive display board into classrooms at their College of Engineering and Engineering Technology. These math and science-heavy classes require tremendous focus from both the educator and the students – which is where Promethean comes in.
With interactive display boards, university professors were able to bridge an engagement gap between their in-person and off-campus students.
I'm a person who likes to reach out to the students, even through the online format, because I want to know if they understand what I'm trying to convey in the class. With this Promethean Panel, it really does help!

– Eric Monsu Lee, Assistant Professor for the Department of Mechanical Engineering at Northern Illinois University
Asynchronous learning in a remote classroom
In 2020, students all across the world were asked to make the switch from in-person instruction to online learning. In no field was this transition more difficult and cumbersome than for first-year college students.
At UC Berkeley, the transition from in-person lectures to 100% online instruction did not happen all at once. Some professors – like UC Berkley Instructor for the College of Chemistry, Mark Kubinec, were already ahead of the curve. Using a repurposed spare bedroom and a Promethean ActivPanel, Kubinec made the transition to virtual learning early.
Using Zoom, YouTube tutorials, live streams, and online polling, Kubenic was able to deliver a fully-online learning experience that was comparable to his in-person lectures.
Berkeley is a research institution that relies on ingenuity and creativity for research which bleeds over into teaching. We know the technology works, and students appreciate it. They gravitate towards it, so we don't have any fear of assigning it.

Mark Kubinec, Instructor for the College of Chemistry at UC Berkeley
Asynchronous learning is here to stay. Make sure your classroom is equipped!
As lockdowns pass into distant memory, the classroom changes they inspired remain. The positive impact asynchronous learning technologies have had on the field of education is indisputable, which is why so many thousands of institutions have made the switch.

When it comes to asynchronous learning technologies, few do it better than Promethean. Find out why thousands of teachers across the country are switching to interactive smart panels and online learning software.
Request a demo today to see the Promethean ActivPanel in action.